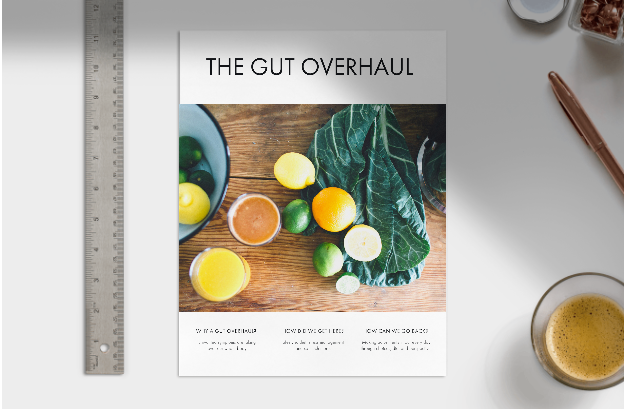 The Gut Overhaul
No longer be bound by chronic fatigue, overwhelming stress, overuse of medication, feeling foggy/exhausted, skin irritations, improper weight fluctuations, IBS or other digestion issues. These problem could be lying in your gut and there is an answer! In The Gut Overhaul, you will learn how these symptoms take root in the body, why a complete overhaul is periodically necessary and the correct protocol for setting things right!
NO LONGER BE BOUND BY CHRONIC FATIGUE, OVERWHELMING STRESS, OVERUSE OF MEDICATION, FEELING FOGGY/EXHAUSTED, SKIN IRRITATIONS, IMPROPER WEIGHT FLUCTUATIONS, IBS OR OTHER DIGESTION ISSUES.
THESE PROBLEM COULD BE LYING IN YOUR GUT WITHOUT EVEN REALIZING IT, AND THERE IS AN ANSWER! IN THE GUT OVERHAUL, YOU WILL LEARN HOW THESE SYMPTOMS TAKE ROOT IN THE BODY, WHY A COMPLETE OVERHAUL IS PERIODICALLY NECESSARY AND THE CORRECT PROTOCOL FOR SETTING THINGS RIGHT!
WHAT'S INCLUDED?
YOU'LL LEARN WHAT A GUT OVERHAUL IS AND WHY IT'S IMPORTANT.
____
YOU'LL LEARN THE SCIENCE BEHIND A HEALTHY GUT THAT WORKS.
____
YOU'LL LEARN HOW BAD BACTERIA BUILDS IN THE GUT AND HOW THAT CAUSES UNWANTED SYMPTOMS SUCH AS WEIGHT GAIN, BRAIN FOG, DIGESTION ISSUES, SKIN ISSUES AND MORE.
____
YOU'LL LEARN HOW IT'S POSSIBLE TO WORK TO RESTORE THE GOOD BACTERIA IN THE GUT SO THAT THOSE PESKY SYMPTOMS GO AWAY!
____
YOU'LL GET A LIST OF FOODS AND SUPPLEMENTS TO EAT FOR 30 DAYS IN ORDER TO TARGET CLEARING OUT BAD GUT BACTERIA SO THAT YOUR GUT CAN BEGIN PROPERLY ABSORBING NUTRIENTS AGAIN.
____
YOU'LL GET A LIST OF GUT HEALING FOODS TO ADD INTO YOUR DIET IF THAT'S SOMETHING YOU WANT TO DO IN ADDITION TO ELIMINATING CERTAIN FOODS.
____
YOU'LL HAVE A PERSONAL ASSESSMENT SCALE SO YOU CAN CONSIDER WHERE YOU'RE AT AND WHERE YOU'RE HEADED.
____
YOU'LL GET WORKSHEETS TO WRITE DOWN YOUR GOALS FOR THE DURATION OF THE 30 DAYS AS WELL AS A FOOD LOG.
____
YOU'LL GET A BLANK MEAL PLANNER AND GROCERY LIST FOR YOU TO FILL OUT EACH WEEK AND BE PREPARED.
____
YOU'LL LEARN WHAT OTHER PEOPLE HAVE ASKED ON THE FAQ PAGE AND HOW TO REALLY LEAN IN TO MAKE THE MOST OF THIS 30 DAY GUT CLeARING PROGRAM.
____
NOTE: IT'S IMPORTANT TO REMEMBER THAT THIS ISN'T JUST ANOTHER "DETOX" BECAUSE OUR BODIES ARE ALWAYS IN A NATURAL STATE OF DETOXING. THIS A DEEPER, MORE TARGETED CLEANSE TO LOOSEN UP THE BAD BACTERIA THAT GETS INTO OUR BODIES (THROUGH THINGS LIKE DIET/LIFESTYLE/ENVIRONMENT/ETC) SO THAT WE CAN RESTORE THE GOOD BACTERIA THAT OUR GUT NEEDS IN ORDER TO WORK PROPERLY.